[ad_1]
Pittsburgh Election Day Deals
Various places
Get rewarded for doing your civic duty at various Pittsburgh locations. Adda Coffee & Tea will offer "a free drip to everyone who brings proof of voting" at all of its locations. Customers who show their "I voted" sticker at the Square Cafe will receive a 10% discount. Check the social media accounts of your favorite local restaurant, cafe or bar on Tuesday, November 8 to see if they have any offers to vote.
Mindful Brewing x Geological Society of Pittsburgh
Multiple locations. mindfulbrewing.com
Mindful Brewing Company has announced the launch of its Pittsburgh Red Bed Amber Lager, a new collaboration with the Pittsburgh Geological Society, a nonprofit group of professional and amateur geologists. The partners will celebrate the new craft beer with a launch party and in-restaurant fundraiser on Wednesday, November 9 from 6-10 p.m. at Mindful's Castle Shannon. A portion of event sales will also be donated to the PGS Galey Fund, dedicated to "supporting scholarships and professional development initiatives" for student members.
The Porch of Siena
120 Siena Drive, Upper St. Clair. dineattheporch.com/siena
The Porch of Siena will host a celebration of the fall harvest with a five-course meal, as well as a wine stealing deal. Tickets for the event, which will take place on Tuesday, Nov. 15 from 6-8 p.m., costs $90 and can be purchased on Eventbrite.
Brewing trace
4312 Main Street, Bloomfield. tracebloomfield.com
Trace Brewing and South Hills Brewing Supply want to support home brewers with a new giveaway. Presented in conjunction with Barrel & Flow Fest and Windy Bridges Brew, the competition will reward two aspiring home brewers with semi-professional brewing kits, beer-making ingredients, a copy of John J. Palmer's book How to brew, and a tutorial from Pittsburgh industry professionals. Interested persons are invited to complete the registration form at tracebloomfield.com/homebrew-kit-giveaway. Women, people of color and members of the LGBTQIA+ community are strongly encouraged to apply. The deadline for applications is Wednesday, November 30. The winners will be announced on December 5.
rally
906 E. Eighth Avenue, Munhall. rallies.com
Pittsburgh will welcome a new fast food joint with the addition of a Rally's in Munhall. The Florida-based chain has begun construction on the site, intended to serve a selection of "delicious hand-seasoned burgers", hot dogs, sandwiches, milkshakes and "America's most mouth-watering fries". according to a press release. Rally's shares a menu with Checker's, another fast food chain.
Cobra
4305 Main Street, Bloomfield. cobrapgh.com
An Instagram post from Cobra promises to make "Wednesday a little more exciting than usual." The restaurant and event space launched #WhiskyWednesday, an event highlighting a new exclusive Suntory Whiskey selection each week. Taste the spirit while singing along with friends in one of Cobra's private karaoke rooms or enjoying a Korean barbecue dinner.
Mi Empanada
4034 Butler Street, Lawrenceville. miempanada.com
Savor Latin American cuisine with a festive twist at Mi Empanada, where they announced the return of their turkey empanada made with baked turkey, stuffing, corn and green onions. It's available for a limited time, so grab it while you can.
Click to enlarge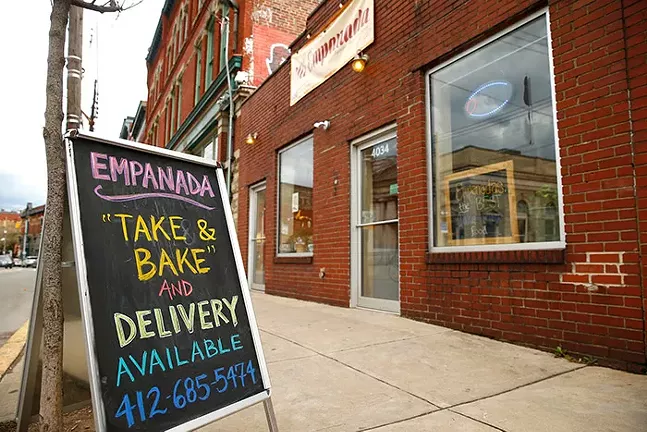 Showy Bee Tea Co.
211 Grant Ave, Millvale. beevisioneteaco.com
L'Abeille Voyante offers a new holiday menu full of vegan delights. The cafe now offers a "lightly spiced" peanut stew, tabbouleh and Brussels sprout salads, a chickpea wrap and a BLA sandwich made with tempeh bacon, apple and caramelized onion mayonnaise on ciabatta. Enjoy it now until December.
Latte Lane Coffee Co.
lattelanepgh.com
Find your dream winter cafe at this drive-thru business. The new holiday menu has a long list of drinks in flavors like salted caramel, buttery rum, peppermint and more. Try the 'Tis the Season latte inspired by cinnamon sugar cookies or the Grinch's Brew flavored with chocolate pistachio pie. Find Latte Lane on Saturday, November 12 at 2581 Freeport Road, or see the "Find Us" page on their website.
---
Got any Pittsburgh food news you'd like to share? Email [email protected]

[ad_2]
Source link