Editor's Note: In the Taste of Life series, culinary experts, chefs, and others involved in the food business showcase their special recipes related to their life journeys.
* * *
Nahomi Edamoto says cooking rice in pots gave her the confidence to work as a professional cook.
Shortly after starting to work in the kitchen field, she was asked to write a series of articles about rice dishes from around the world.
As she cooked rice in the pot every day, she found that the rice tasted good on some days but not on other days. It made him think.
She found the answer in the middle of the night.
"It happens because the rice dries out."
She used to buy rice in 5 or 10 kilogram bags from a rice seller. Freshly polished rice contains more water right after it is purchased. Over time, however, it dries out and towards the end the cooked rice has a tougher consistency.
It occurred to her that the flavor of the rice varied because she had cooked it in the same amount of water without realizing it.
Thinking about rice every day and finding an answer on its own gave Edamoto confidence.
"After that, I started thinking about farming. I asked farmers to show me their fields, and my attention turned to the connection between the dinner table and farming," she said.
After thinking about what she can do as someone working between producers and consumers, she formed the Mukago team.
Mukago is a stem tuber, or the ball-shaped buds that form on vines of "yamaimo" and other yams. They taste good but are less likely to enter the current agricultural distribution channel.
She hopes to shed light on agricultural products that are secondary products, such as mukago, or neglected because they are non-standard, and create opportunities that will generate more interest in agriculture.
The Great East Japan Earthquake hit just after the group became an incorporated general association in 2011.
Edamoto immersed herself in a project where disaster-affected people baked and sold cookies. The group also created salad dressings made from non-standard carrots and onions, and sold scrubbers made by knitting strips of hinoki cypress.
"What we do isn't always about supporting agriculture, but we'll do what feels right. It may not be on a large scale, but it is enough," she said.
Corn rice is Edamoto's favorite dish among many "takikomi-gohan" dishes, where rice is cooked with various seasonings and ingredients. A whole tomato is added to the pot when making tomato rice.
"When the rice is cooked and you open the lid, there's a whole tomato right there to catch your eye and it looks quite pretty," she says.
* * *
Nahomi Edamoto: Bborn in Yokohama in 1955, she is a cooking expert. His books include "Edamoto Nahomi no riaru asa gohan" (Nahomi Edamoto's Real Breakfast). She is a co-representative of the authorized NPO, The Big Issue Japan Foundation.
BASIC COOKING METHOD
Ingredients for corn rice (For 4 to 5 people)
2 and 1/2 cups (500 ml total) rice, 1 ear of corn, 1/2 tsp. salt
1. Rinse the rice as usual and place it in a heavy saucepan. Add 550ml of water.
2. Shave corn off the cob with a kitchen knife and add to pot with water. Place the shaved pit on top and put a lid on. If possible, leave on for 10 to 15 minutes.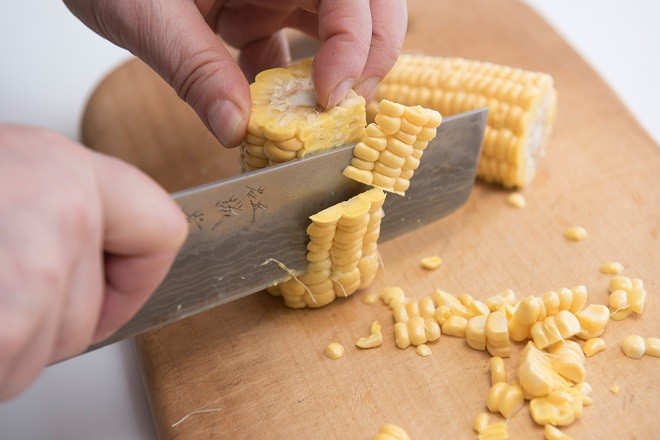 3. Place over medium high heat and bring to a boil. Reduce heat to low and cook 10 minutes more. Turn off the heat and allow the contents to steam for 8-10 minutes. Remove the core, salt and mix well.
Assuming the ingredients for corn rice serve five, about 330 kcal and 0.6 grams of salt per serving
(Nutrient calculation by Kagawa Nutrition University Nutrition Clinic)
tomato rice (For 4 to 5 people)
1. Rinse 500ml of rice and place it in a heavy saucepan with 500ml of water.
2. Remove the calyx from a tomato, make a deep cross-shaped incision and place it on rice. Add 4-5 sausages cut in 1cm width and 1 teaspoon of granulated chicken broth to the pan, put the lid on and cook in the same way. Turn off the heat and allow the contents to steam for 10 minutes.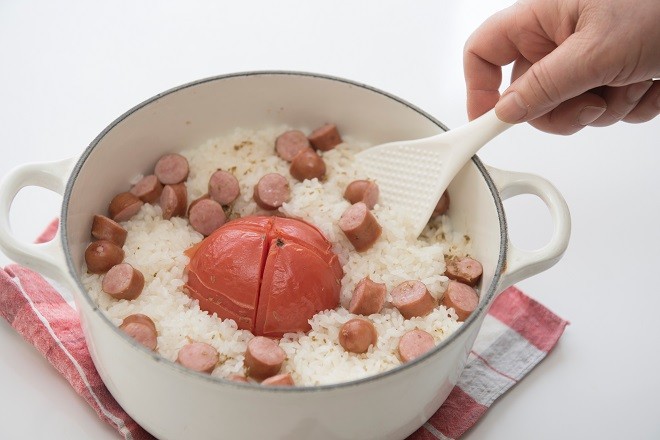 3. Add 2/3 teaspoon of salt, 1 tablespoon of olive oil as well as oregano and coarsely grated black pepper to taste and mix while breaking up the tomato.
(This article was written by Mika Omura and Miki Kobayashi.)
* * *
From the Jinsei Reshipi (Recipe of Life) Column of the Asahi Shimbun